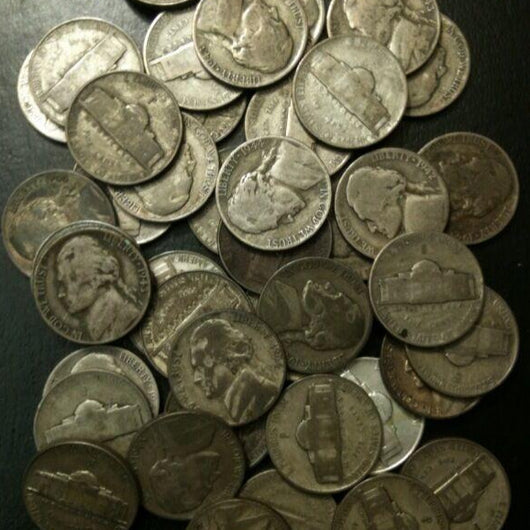 1942-1945 Silver Wartime Jefferson Nickel P D S
This listing is for ONE randomly selected 35% Silver Wartime Jefferson Nickel. The dates will vary between the WWII years of 1942 and 1945. The mint marks will vary between P, D, and S. 
During World War II, nickel was needed for armor plate, and copper was required for electrical wiring, shell cases, and radar equipment. Thus, the U.S. Mint began experimenting with substitute metals for the Jefferson five-cent piece, as well as some means to distinguish the new-composition coin from the former "nickel" five-cent piece. This was accomplished by moving the mintmark above Monticello. The result was the curious "war nickel," the first five-cent piece with any silver content since the silver half dime was discontinued in 1873.

Bonuses
Buy 5 and be guaranteed at least 1 "S" Mint Silver War Nickel in your Group
Buy 10 and be guaranteed every war nickel date, and an S mint
Buy 20 and be guaranteed an
 about Uncirculated Silver War Nickel, every war nickel date, and an S mint