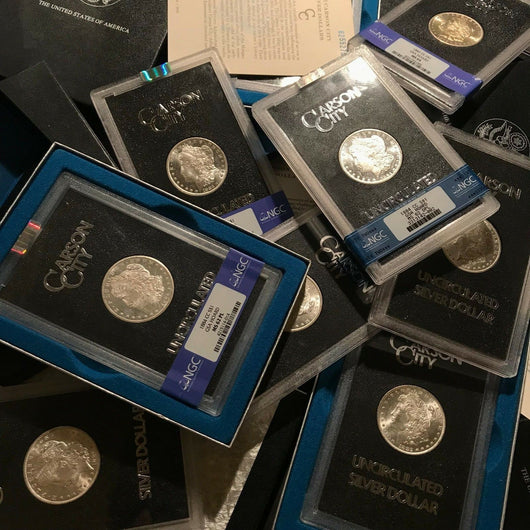 GSA Carson City Morgan Silver Dollar 1878-1884 CC Mint Uncirculated
Regular price $599.00 $559.00 Sale
Over many years of buying huge coin estates and purchasing various collections/hoards, we have amassed a large quantity of Original Uncirculated GSA Carson City Morgan Silver Dollars. We have broken down our large hoard into single lots which are now ready to be passed on to you at blowout prices! Each lot will contain one GSA Certified CC Minted Morgan Dollar dated from 1878-1885.
In the mid 1960's, after the program allowing for the exchange of silver certificates for silver dollars was terminated, the US government had a large excess of original mint sealed bags of Carson City silver dollars. The hoard was dubbed the GSA (Government Services Administration) hoard. The massive hoard was broken up piece by piece and offered for sale to the public decades ago. These original untouched pieces are very scarce given that many coins have been broken out of their holders or damaged. Every coin in this special offer will still be in their original airtight holder, with their certificate of authenticity, inside the original mint box. Some were even in their original brown shipping box.
This collection includes many scarce and key date coins! Be sure to take advantage of our special bonuses listed below to receive high grade and scarcer pieces. You will receive no duplicate dates upon orders less than 3. Carson City minted coins are by far the rarest and most sought after Morgan silver dollars!
Must checkout with paypal/email on larger orders.
★SPECIALS★
If you buy 3 now,

 

we will include a Vintage Carson City Bank Check Absolutely FREE as a Bonus!

 

(Dated between 1878-1910, this is a scarce piece of history valued up to $30)
If you buy 4 coins, we will include a PCGS or ANACS or NGC Graded CC Morgan Dollar In MS63 Or Higher Condition as one of the coins in your lot!
If you buy 5 coins, we will include a MS64 NGC or ANACS or PCGS CC Morgan Coin as one of the coins in your lot! (Valued up to $400+). 
If you buy 10 coins, we will include a Proof Like (PL or DPL) NGC or PCGS Graded CC Morgan Dollar as one of the coins in your lot! (Rare mirror like strike and finish. Valued up to $600+).