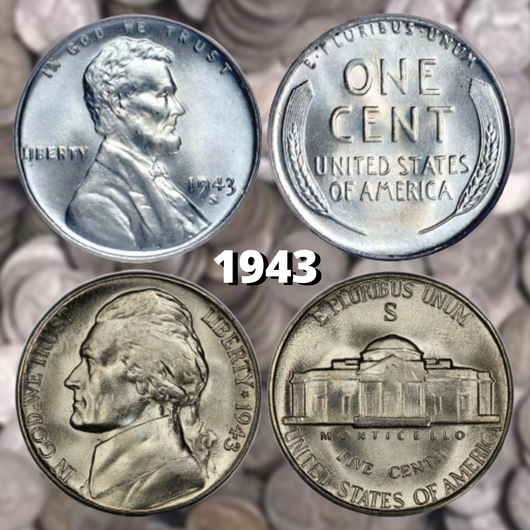 1943 WWII Steel Cent & Silver War Nickel - Uncirculated Set
Regular price $19.95 Sale
An original bank wrapped roll of 1943 Steel Cents alongside original bank wrapped rolls of 1942-1945 Silver Nickels were just uncovered and purchased by our team.  These rolls were set aside over 75 years ago knowing that these coins would be very valuable someday, especially in uncirculated condition.
The Nickel will range in year from the years above.
1943 has been a sought after year for coin collectors due to the use of emergency metals in place of copper and nickel need for World War II efforts.  Wheat cent planchets were made of steel and nickel planchets were made of silver.  The mintmark was moved above Monticello to note this use of precious metal.
Despite there being 50 steel cents in the roll, only 40 silver nickels come in the roll so 40 sets of these historic emergency metal coins can be offered.
BONUSES
Order 4 Sets and Receive a Bonus 1943 Mercury Dime in AU+/Uncirculated Condition
Order 6 Sets and Receive a Bonus 1943 Washington Quarter in UNC Condition
Order 10 Sets and Receive a Bonus 1943 Walking Liberty Half Dollar in UNC Condition